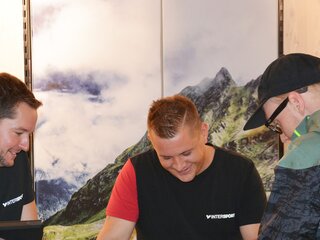 Career 
INTERSPORT Montafon
INTERSPORT Montafon is looking for you!
Rental/ Sales/ Cash point/ Service
to strengthen our seasonal team for the coming winter season 2021/22 we are looking for dedicated and energetic employees with a flexible extent of employment from 25% to 100%.
Your profile:
enthusiastic about sports and open to new ideas
customer friendliness
high social competence and ability to work in a team
assertiveness and high degree of flexibility
high level of commitment and resilience
A dynamic team and numerous employee benefits await you. Depending on work experience, wages significantly above the collective agreement are a matter of course.
Interested? Then apply now! We look forward to your application!

Contact address
Personalabteilung
Bahnhofstraße 24
6780 Schruns
personal@intersport-montafon.at
+ 43 5556 7103-11

For the season 2021/22 in our 12 rental shops in Montafon
Part-time to full-time (10-38,5 hours/week)
Your profile
Motivated and open for new things
High social competence and ability to work in a team
Assertiveness and high flexibility
High level of commitment and ability to work under pressure
Friendliness
We offer you:
Dynamic and sports-minded team
Varied activities
Numerous employee benefits (meals, free ski pass, etc. ...)
A salary higher than the collective-salary is a matter of course if you have appropriate professional experience. Min. € 24,360 gross/year on a full-time basis.