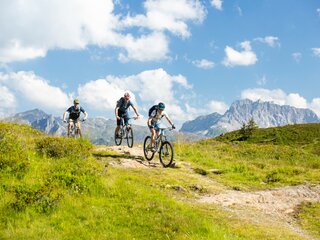 E-bike network
battery charging stations.
Long tour - battery empty?
Visit our numerous charging stations
In Montafon we have established an extensive e-bike network with charging stations. For all customers with Bosch drive there is a possibility to charge their batteries free of charge at the stations listed below.
When planning a tour, please keep in mind the indicated opening hours of the e-bike network partner.
Opening hours charging stations 2023
Öffnungszeiten auf jeweiliger Homepage
Charging stations for common systems from Bosch, Shimano and Yamaha
Intersport Montafon Schruns, Hochjoch Berg, Hochjoch Tal, St. Gallenkirch, Silvretta Park und Versettla Tal
Silvretta Montafon Nova Stoba
Panoramagasthof Kristberg
Silvretta Montafon Josefsheim
Charging stations only for Bosch batteries with 500Wh and 625 Wh systems
Haus Matschwitz
Gasthaus Kropfen
Berggasthof Grabs
Diana´s Schnitzelstöbli
Heilbronner Hütte
Brunellawirt
McDonalds Bürs
Gasthaus Fellimännli
Pure Mountain Equipment Gargellen