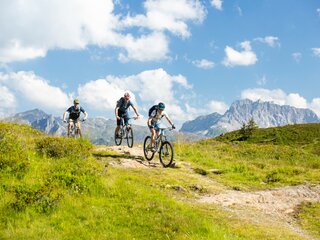 E-bike network
battery exchange and charging stations.
Long tour - battery empty?
Visit our numerous exchange and charging stations
In Vorarlberg we have established an extensive e-bike network with charging stations. For all customers with Bosch drive there is a possibility to charge their batteries free of charge at the stations listed below.
For all hardtail e-mountain bikes which were rented at INTERSPORT in Montafon, you can even directly exchange the battery for a fully charged battery at the exchange stations or rental shops, and immediately hop on the bike again!
When planning a tour, please keep in mind the indicated opening hours of the e-bike network partner.
Opening hours charging stations 2020
Opening hours
Haus Matschwitz
Gasthaus Kropfen
Kapellrestaurant
Hochjoch Bahn Bergstation

30.05. - 02.07.2020
03.07. - 01.11.2020

Sat and Sun 9:00 am - 4:00 pm
daily 9:00 am - 4:00 pm
Berggasthof Grabs
from 21.05.2020
Diana's Schnitzelstöbli
daily from noon
wed & thu closed
Verbella Alpe

Beginning of July until Mid of September

Heilbronner Hütte
19.06. - 04.10.2020
Appartments Tanafreida
18.04. - 05.12.2020
Brunellawirt
from 03.07.2020
daily 9:00 am - 5:00 pm
Alpe Vergalden

Mid of June until the beginning of September

Nova Stoba
10.07. - 20.10.2020
daily 8:30 am - 4:30 pm
Mc Donalds Bürs
daily 7:00 am - midnight
Exchange and charging stations 2020
Öffnungszeiten
INTERSPORT
Rental Schruns
29.05. - 13.06.2020
Mon - Sat 8:30 am - 12:30 pm
and 1:30 pm - 6:00 pm
15.06. - 13.09.2020
daily 8:30 am - 12:30 pm
and 1:30 pm - 6:00 pm
14.09. - 17.10.2020

Mon - Sat 8:30 am - 12:30 pm
and 1:30 pm - 6:00 pm

INTERSPORT
Rental St. Gallenkirch
16.03. - 23.12.2020

Mon - Fri 8:30 am - 12:30 pm
and 2:00 pm - 6:00 pm
Sat 8:30 am - 12:30 pm
an 1:30 pm - 5:00 pm

INTERSPORT
Rental Versettla Bahn Talstation
20.06. - 13.09.2020
daily 8:30 am - 12:30 pm
and 1:30 pm - 6:00 pm
Fellimännli Silbertal
21.05. - 11.10.2020
daily 10:00 am - 6:00 pm
Gasthaus Kristberg
from 15.06.2020
Hasahüsli
May until October
Pure Mountain
Equipment Gargellen
11.06. - 04.10.2020
daily 8:00 am - 5:00 pm
Outlet Lorüns
Mon - Fri 9:00 am - 6:00 pm
Sat 9:00 am - 5:00 pm