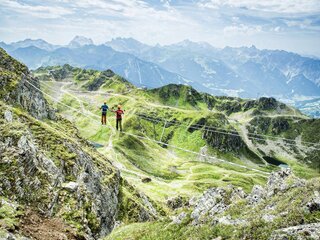 More service
for the perfect day in the mountains
Breakdown service
Call us if you can´t go any further!
With the exclusive INTERSPORT breakdown service, flat tyres will also not hinder you on the way to the goal of your bike tour. For only € 5 per day you enjoy:
Free pickup service at the next spot reachable by means of car
Free delivery of a replacement bike
No repair costs in case of accident damages
Cost of pickup service without booked breakdown service: € 29.00 flat-rate, plus € 0.50 per kilometre travelled to the pickup point.
Hotel delivery & hotel pickup
Start your bike tour directly from your accommodation and spare yourself the trip to our shop! We will transport up to 4 e-bikes directly to your accommodation in Montafon.
Hotel delivery of up to 4 e-bikes: € 50
Hotel pickup of up to 4 e-bikes: € 50
Contact us in advance if your accommodation is located outside Montafon or you require a transport for more than 4 e-bikes.

Phone: +43 5557 6300 604
E-Mail: intersport@silvretta-montafon.at

Customer satisfaction guarantee
Buying at INTERSPORT means buying without worrying - worldwide. Because in more than 5,500 INTERSPORT stores in over 40 countries, INTERSPORT customers can count on optimal advice, support and service.
Replacement

We will exchange anything that doesn't satisfy you completely. If an article falls short of your expectations when you use it for the first time, we will naturally exchange it without any problem.

Offer guarantee

As long as the offer stands, stocks last as well. We stand by our offers. If an offer is sold out, we will refurbish our stocks. Or we will offer you an equivalent item at the same bargain price.
Fitting guarantee
Boots must simply fit. For this reason, we will exchange all shoes, e.g. mountain boots, sports shoes, or inline skates if any fitting problems arise during first use.
E-bike Network
Long tour - battery empty?
Then head to the e-bike station for charging or exchanging! In Vorarlberg we have established an extensive e-bike network with charging stations.
When planning a tour, please keep in mind the indicated opening hours of the e-bike network partner.