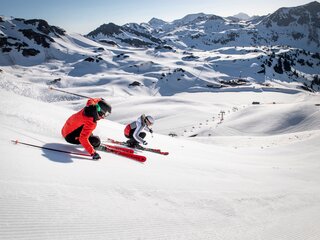 More service 
for more riding fun
Sharp edges  = safe ride!
Ski service on the most modern service machines in Montafon!
We bring your skis / your snowboard back in top form overnight for more safety and riding fun on the ski slope!
| | Erw. Ski | Kids Ski* | Board |
| --- | --- | --- | --- |
| Racing Service | 69,- | 49,- | - |
| Professional Service | 49,- | 35,- | 69,- |
| Classic Service | 33,- | 23,- | 49,- |
| V-Edge extra charge | 5,- | 5,- | - |
| Waxing | 9,- | 9,- | 9,- |
| infared waxing extra charge | 12,- | 12,- | 12,- |
| Punch covering** | 25,- | 25,- | 25,- |
| Glue covering** | 15,- | 15,- | 15,- |
*Models up to a length of 130 cm are regarded as children's skis
**Per damaged spot/only in conjunction with professional service
Top Seller
Professional Service
Structuring tuning of base
Tuning of side edges
(88°)
Scraping out of rough scratches
and removal of wax residue
Fusing of high-quality coating material
over the entire surface
High-quality structuring polish
Side edge from 88° or 86°
Extra-sharp edges possible on request
Enjoy relaxed skiing
with our carefree package
With the INTERSPORT Montafon carefree package you save the deductible (excess) in case of loss or theft of your skis or your snowboard.
The package for adults costs
€ 8 for one day,
€ 14 for two days and
€ 24 for a rental period from three days.
Anyone who foregoes the carefree package must pay between €200 (Economy) and € 500 (Superior) in case of loss or theft of rental equipment.
Test & Buy 
Would you like to first test your skis on the ski slope before you buy them?
We fully understand that!
A ski not only has to be convincing in the shop, but above all on the ski slope. Test all of your desired models under genuine conditions in the snow and find out which ski best supports your style of skiing. Once you have decided, we will deduct the rental charge from the original price for up to 2 days.
Our INTERSPORT employees will gladly advise you!
Customer satisfaction guarantee
Buying at INTERSPORT means buying without worrying - worldwide. Because in more than 5,500 INTERSPORT stores in over 40 countries, INTERSPORT customers can count on optimal advice, support and service.
Replacement

We will exchange anything that doesn't satisfy you completely. If an article falls short of your expectations when you use it for the first time, we will naturally exchange it without any problem.

Offer guarantee

As long as the offer stands, stocks last as well. We stand by our offers. If an offer is sold out, we will refurbish our stocks. Or we will offer you an equivalent item at the same bargain price.
Fitting guarantee
Boots must simply fit. For this reason, we will exchange all shoes, e.g. mountain boots, sports shoes, or inline skates if any fitting problems arise during first use.